Galvan Ground Clamps Solve NEC 250.70 Compliance Problem With UL Listing For Copper, Galvanized And Stainless Steel Rods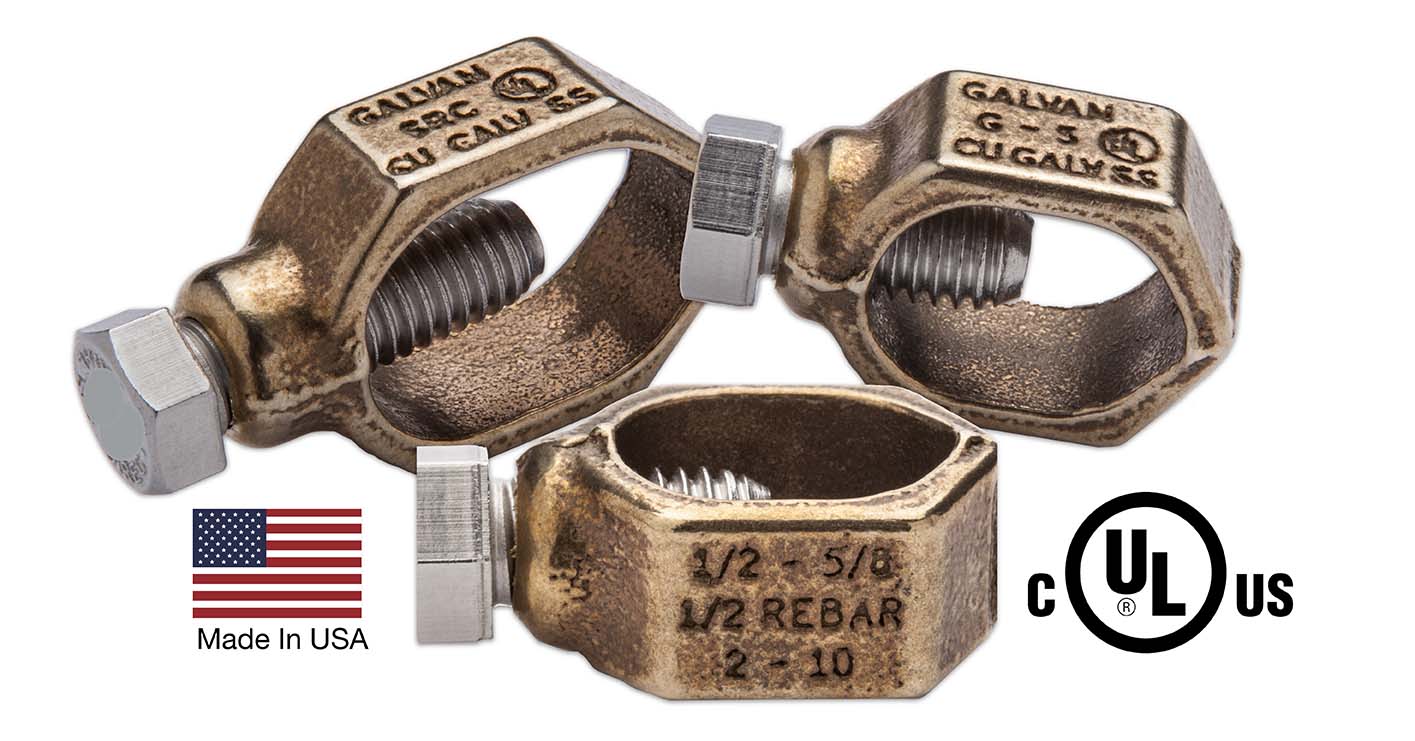 Harrisburg, N.C. — NEC 250.70 Methods of Grounding and Bonding Conductor Connection To Electrodes clearly states, "Ground clamps shall be listed for the materials of the grounding electrode." The problem is that most ground rod clamps are actually listed only for copper-coated rods.  If one of these clamps is used with a galvanized or stainless steel ground rod, the installation does not meet code.
Galvan Industries has solved this problem for electricians and electrical inspectors. Galvan's new G-5 and SRC ground clamps are listed for copper bonded, galvanized and stainless steel ground rods in both the United States and Canada. They are also listed for rebar (UFER) grounds. The listing includes direct burial in earth and concrete.
The SRC's UL listing covers use with 1/2-inch to 3/4-inch copper-coated, galvanized and stainless steel rods, plus 3/4-inch "full size" galvanized rods (0.750 – 0.765). In addition, the listing covers sizes #4, #5 and #6 rebar.
The new G-5 is listed for 1/2-inch to 5/8-inch copper-coated, galvanized and stainless steel rods, 5/8-inch UL galvanized rods (0.539 to 0.555) and 5/8-inch "full size" galvanized rods ((0.625 -0.640). They are also listed for #4 rebar.
Because of their wide UL listing range, the new Galvan G-5 and SRC eliminate the need to inventory other ground rod clamps. This saves money for both distributors and installers, and reduces errors caused by shipping or using the wrong clamp.
New Galvan G-5 and SRC ground clamps are made in the USA. They meet the Buy American Requirement under Section 1605 of the American Recovery and Reinvestment Act (ARRA) of 2009, and the Buy America Act, United States Codes 23 USC 313 and Code of Federal Regulations 23 CFR 635.410.
About Galvan Industries, Inc.
For 60 years, Galvan Industries has been a trusted supplier of electrical grounding products used residential, commercial and industrial applications, including construction, cable TV, lightning protection, power generation, telecommunications and OEM markets.
Galvan products are stocked at strategic sites around the country to assure fast deliveries. To learn more, or to place an order, contact Galvan Industries at (704) 455-5102, fax (704) 455-5215; e-mail sales@galvan-ize.com or visit Galvan on the Web at www.galvanelectrical.com.