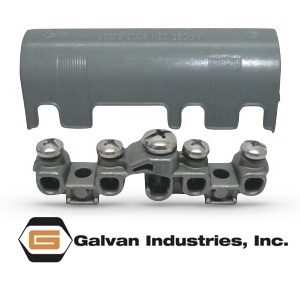 HARRISBURG, NC – Galvan Industries is now offering contractors cost-efficient die-cast zinc intersystem bonding bridge connectors. Designated Type IBBZ, they meet 2011 and 2014 NEC 250.94 requirements for Intersystem Bonding Termination.
The UL-Listed IBBZ is used in residential and commercial applications to ground up to four systems to a single location using stranded or solid copper conductors. Through-hole style connections are provided for up to four auxiliary ground wires, sizes #14 to #4. A lay-in connection for the main grounding conductor accepts sizes #6 to #2.
Galvan's new intersystem bonding bridge meets UL 467 standards, as well as CSA C22.2 No. 41. The IBBZ features a corrosion resistant body with stainless steel screws for reliable grounding connections. They also come standard with a plastic cover, which provides protection from the elements and a more aesthetically pleasing installation.
About Galvan Electrical Products
Galvan Industries offers a full line of electrical grounding products, accessories, connectors and tools that are used in residential, commercial and industrial applications, including construction, cable TV, lightning protection, power transmission and telecommunications. They are available from leading electrical wholesalers and distributors throughout the United States.
In addition, Galvan is the only U.S. manufacturer to produce UL-listed galvanized ground rods, UL-listed copper-bonded ground rods, UL-listed solid copper ground rods and CSA-listed stainless steel ground rods for use in the U.S. and Canada. This gives contractors, wholesalers and utilities a safe, listed option for all of the most commonly specified types of ground rods.
For more information call 1-800-277-5678; fax 704-455-5215; e-mail sales@galvanelectrical.com or visit Galvan on the Web at www.galvanelectrical.com.