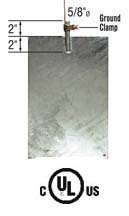 Catalog
Number
Description
Dimensions
Pcs.
Per Ctn.
Wt. per
100
NAED
UPC No.
632591-

GP-G*

Galvanized Steel w/o connector
1/4" x 9-3/4" x 14-3/4"

4

1150

61362-0
GP-GC+
Galvanized Steel with connector
1/4" x 9-3/4" x 14-3/4"

4

1160

61363-7
GP-B
Bare Steel w/o connector
1/4" x 9-3/4" x 14-3/4"

4

1150

61364-4
GP-BC
Bare Steel with connector
1/4" x 9-3/4" x 14-3/4"

4

1160

61365-1
Notes: Meets NEC Code 250.52.A.7 and NESC Code 094.B.3.C
NEC 250.53.H required to be installed not less than 30 inches below surface of the earth.
NESC 094 B3C required to be installed at a depth of not less than five (5) feet.
NEC 250.53(2) requires two electrodes unless a single electrode has a resistance to earth of 25 ohms or less.
*GP-GC UL Listed. Connectors for GP-GC are shipped in a separate box.
+GP-G Listed when used with #2AWG max conductor
Manufactured from solid 0.25″ steel.
Available in galvanized or bare steel.
Made in USA.  Veteran owned company. 
2 sq.-ft. surface area.
Suffix "C" denotes with Galvan ground rod clamp.
Minimum zinc thickness 3.9 mils (per ASTM A-123.